A PRESTIGIOUS MALINOIS LITTER
SUITABLE FOR ALL DISCIPLINES
IS DUE BY EARLY SEPTEMBER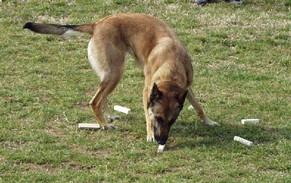 Da'Eder von der Brunnenstadt (HDA)



for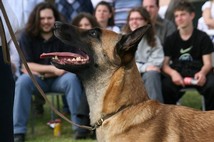 Velvetgun La Maschera di Ferro (HDA)




The a.m. parents, the paternal as well as maternal grandparents
(6 dogs) have ALL been selected for IPO and Obedience World Championship and have shown their value as breeders
(Ipo, Obedience, Agility).



The reason why


The first places of Ipo World Championships of these last years have been quite monopolized by Germans, it seems that they have found the key to have solid dogs with temperament, sociable but well determined, with good tracks, obedience and spectacular attacks, receptive dogs always willing to work.
The best German bloodlines are based on the mating between the stud Klemm von Roten Falken or his sons, and the daughters or grandchildren of Gismo von den Bosen Buben.
During the last World Championships, 3 FCI world champions and 2 FMBB world champions have come from this mating. The dog who has impressed me most for the quality of the work and for the constancy of the performance, is the FCI and FMBB world champion Bendix vom Adlerauge, whose Sire is Da'Eder vom der Brunnenstadt (son of Klemm) for Alpha de sauvage chasseur, daughter of Gismo von den Bosen Buben.
With the union between Da'Eder for Velvet I do nothing but to repeat exactly for ¾ the Bendix litter!! The fourth that is different (i.e. the maternal grandmother) is Onice La Maschera di Ferro, the 12-years-old dog who is here by my side who I love for her strong character.





At this link you can see the future pedigree of the puppies:


http://www.working-dog.eu/wurf-details/7098/Cini-Anna-Maria




SIRE : DA'EDER VON DER BRUNNENSTADT
Korung 1 : 654 / 4 /5545
HDA - IPO3 - 5th place at FMMB 2007 IPO World Championship
2nd EXC in Beauty Championship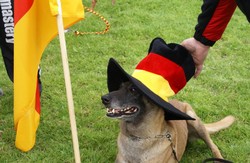 Da'Eder is a very sociable dog, solid with a steady and very strong bite. He is very calm at home and lives with three children, other dogs and cats. While working, he's a dog full of temperament and always willing to work. At the age of almost 8 years, he has gained the 5th place at Belgian Malinois IPO World Championship and has often been at the first places at German championships.
As stud he has done 70 matings until today, giving birth to many good dogs suitable for all disciplines but the best results have been obtained with the union with Gismo's daughters (exactly as Velvet). The best example is surely Bendix vom Adlerauge, FCI and FMBB world champion, and several times German champion. The mating for Bendix has been repeatedly used, indeed, both Bendix owner and Da'Eder owner Robert have a puppy from one of these matings.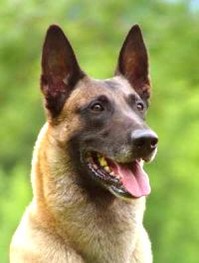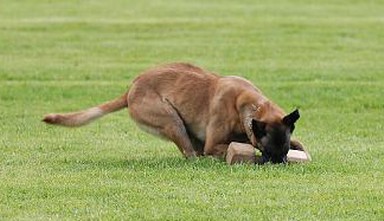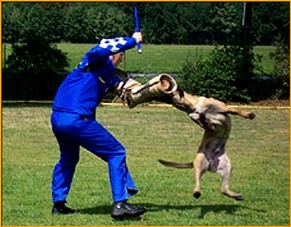 Movie of attacks during 2008 World Championship : http://www.youtube.com/watch?v=bmtNwRhhwTs

Movie of attacks during 2007 World Championship : http://dailymotion.virgilio.it/video/x5ld0l_fmbb2007ederdaeder_animals

More photos, movie of attacks and obedience, pedigree, please click here

Photos, video and pedigree of Bendix FCI and FMBB world champion (¾ of pedigree same as the upcoming litter): here



PATERNAL GRANDFATHER : KLEMM VOM ROTEN FALKEN
Ztp 454 / 4 / 55
HDB - IPO3
FCI World Champion 2000 - 2001
FMBB World Champion 2000


Photos, movie and pedigree : http://www.working-dog.eu/dogs-details/303/Klemm-vom-Roten-Falken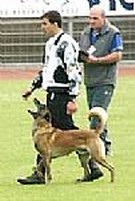 For Malinois lovers a presentation of Da'Eder's father is not necessary, he has made the story of this breed as an athlete and as a stud. It is quite hard to count his sons and grandchildren who have reached world top results. His obedience and attacks have set a school!!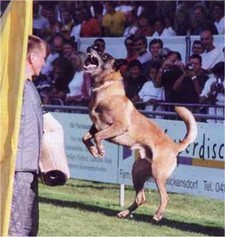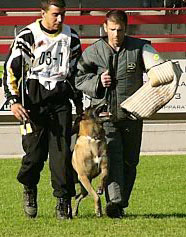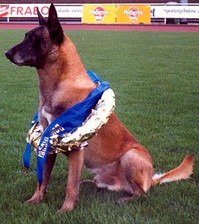 PATERNAL GRANDMOTHER : LOLA VOM ROTEN FALKEN
HDA - Korung 3 (!!!) 544-4-5554
IPO3 - 4th place at FCI World Championship 2000 (95-97-95)
4th place at FMBB World Championship 2001
EXC in Beauty Championship


A very strong Malinois bitch, often excellent in the three sections during the most important international and national competitions, twice classified in 4th place at IPO World Championship. Her pedigree includes Oscar a few times and Saskia one time, reminding Klemm's pedigree.



Movie and pedigree : http://www.working-dog.eu/dogs-details/323/Lola-vom-Roten-Falken


______________________________________________________________________


DAM : VELVETGUN LA MASCHERA DI FERRO
HDA - ED O/O - OCD Free
Italian and Social Beauty Champion
IPO3 - Obedience3 - Obedience Enci Trophy winner
Three times selected for FCI Obedience World Championship
AAA Selection (best selection) - Tanc on flock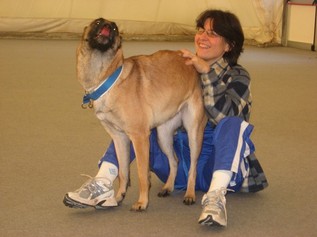 At this link you can read my website pages dedicated to my sweet "Fefettina" born in my hands. I can tell you that every person who has met Velvet couldn't help falling in love with her, she has a sunny and joyful nature and is very sociable. She has gained very good results in sports as well as on beauty rings.
As a bitch, after one year and a half from her first litter, her son Erak at 16 months-old has obtained the third class in Obedience, performing good competitions and showing his temper, his will to work, his brain and his joy of living.
Her son Elf (HDA ED 0/0) made his debut in Ipo1 at only 18 months in Austria with 100-90-92 and has obtained CAC-RCACIB in Specialty Beauty expo.



Velvet's brothers:

Vion (HDA - IPO3- SCH3 - FH1) has won IPO3 US Championship all breeds, and has won for two years the title of best dog given to the Helpers. For more information and video about Vion : link

Vinny (HDA - AGILITY3) has been selected three times for FMBB Agility World Championship.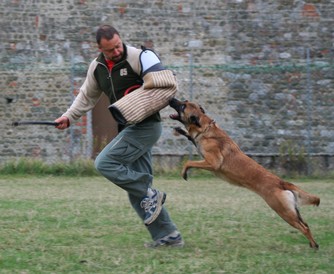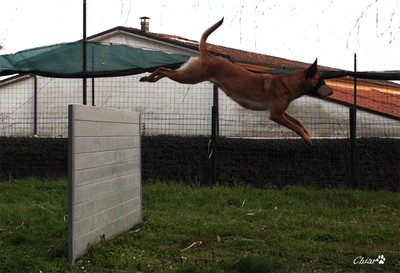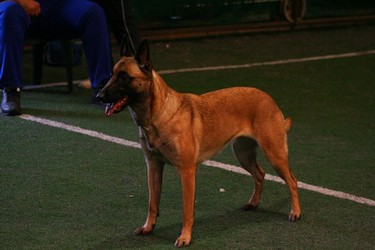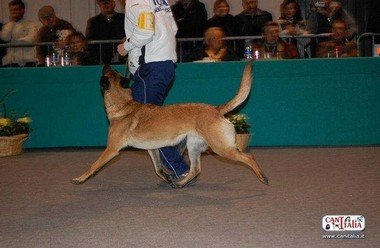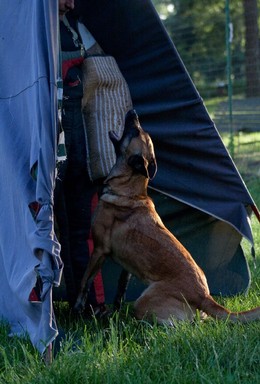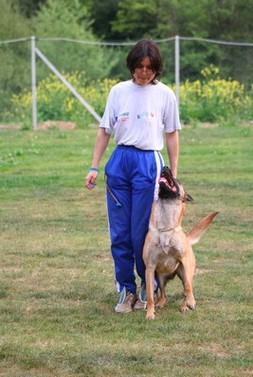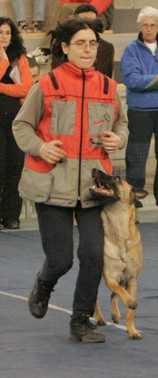 MATERNAL GRANDFATHER : GISMO VON DEN BOSEN BUBEN
HDA
KORUNG 1 454-5-5444
IPO3 - FMBB World Championship 2004
FCI World Championship 2002-2003
8th place at FCI World Championship 2002 (best obedience 99/100)
EXC in Beauty Championship


At this link you can read more about him. I fell in love with Gismo the first time I've had the pleasure of seeing him during a competition, he was full of energy, going at full speed but with without loosing control, vigorous obedience but judicious and very sociable.
What to say about him as a stud? Two world multichampions have his bloodline same as a lot of other dogs on the podium or within the first ten places


Movie and pedigree : working-dog.eu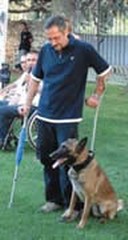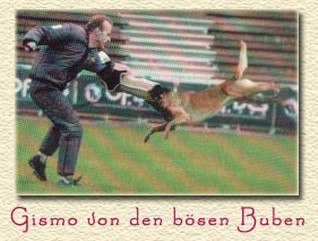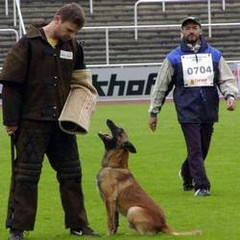 MATERNAL GRANDMOTHER : ONICE LA MASCHERA DI FERRO
HDA
Italian Obedience champion
Three times selected for FCI Obedience World Championship (excellent)
Agility 2 (2 exc out of 3) - IPO1 (97 for attacks)
Best of Breed at Social Beauty Championship


At this link you can read more about her. What to say about Onice? She has been my teacher, together we have tried almost all disciplines thanks to her utmost generosity, her brain, her solid temperament, her determination and spirit. She has tried in attack to do French ring thanks to a Monegasque Helper who unfortunately passed away. She was able to perform at full speed with excellent grip.
As a bitch of her six puppies, besides Velvet, her brothers must be mentioned: Vion, IPO3-SCH3-FH1, IPO USA champion all breeds, Vinny Agility3 FMMB Championship and Blues IPO2.